Vinh is a the capital of Nghệ An province, about 300km south of Hanoi, and is the 7th largest city in Vietnam at about 500,000 people. It's known as the 'Gateway to the South' by the people on Northern Vietnam. The city is well connected to the rest of the country with plenty of road, rail, and air routes. The people are friendly and genuinely curious about foreigners, since not many stay long in the city. And if you've got a keen ear, you may notice people here speak a different dialect of Vietnamese unique to the region.
If you've got a copy of the Lonely Planet guidebook, you'll see it has a less than stellar review of Vinh City. The truth is, as like any part of Vietnam, you'll need to get off the beaten track to see what Vinh and the surrounding area has to offer. While certainly not Ninh Binh or the southern coast, Vinh (and Nghe An province) have some unique sites to offer if you're looking in the right places.
1. Đảo Chè green tea islands
Located about 50km west of vinh (and just 12km from Laos), are the Đồi Chè green tea islands. Multiple islands jut out of the water into perfectly rounded hills, each with rows and rows of green tea plants. It's possible to take a boat tour with a number of companies. They will stop on some islands and drive through the rest or get lunch. My boat even had free wifi and karaoke if anyone felt the need to sing. It wasn't busy, as my boat just had 6 people and the tour lasted about 1.5 hours without lunch. Be sure to buy some green tea from the exact field you walk through as well! Although it's possible to get a tour on your own – I recommend going with some Vietnamese friends or a guide to make things easier. I'll provided a link to the exact location I got a tour from – they had a restaurant, bathrooms, parking, and some very curious children. Looking on the satellite view of google maps, it's possible to see the roads that wind through the green tea fields and homes to arrive here by motorbike. The whole drive in is stunning and you'll feel far from any western influence. Although it's a bit far, below are more ideas of things to see in this part of the province.
2. Ho Chi Minh's hometown
Perhaps this area's biggest attraction in Nghe An is the home where the revolutionary leader was born and raised. Located about 16 km west of Vinh, near Nam Đàn town (directions). His home has been preserved and a few artifacts from home you are present. You can see the bed he slept in, and some of his other belongings. His home is a good example of the simple and traditional homes of Vietnam. Most information in only in Vietnamese, although you can find a little English, and I'm sure some locals will be happy to help out if you ask.
3. The tomb of Ho Chi Minh's Mother
Officially called Mrs. Hoang Thi Loan's tomb, it was built in 1985 to commemorate the mother of Ho Chi Minh. It is beautifully set on a mountain and contains his mother's tomb and is mostly frequented by Vietnamese tourists. It's not far from Ho Chi Minh's hometown and just 15 km fro Vinh (directions).
4. Cua Lo beach
Heading 15km Northeast from Vinh you'll arrive at the smooth sand Cửa Lò beach (directions). I've visited twice in the off season and it has never been busy. But you can imagine the summer rush, with large hotels along the beach, restaurants, and the huge beach. Here you can see large ships off in the distance and enjoy a beer while taking in the sea breeze. There are no shortage of restaurants just in from the beach as well. Having visited many beach in Vietnam, this one is refreshingly clean without much garbage.
5. Find the Nghe An Citadel
Located off any major street, you might stumble upon the Nghe An Citadel (directions). Originally built in 1804 and fortified in 1831, this French-style citadel was built under Emperor Minh Mang as a defense stronghold for the strategically important area of Vinh. Later it was used by the French as a prison, and a place to execute political prisoners. Today, the only remnants are its 3 gates. You can even drive through the West Gate. There isn't much to see, but presently (2017), they are rehabilitating the moat into a park space. As well, inside the citadel walls you can find a basic museum with some interesting historical photos and American war relics.
6. Visit Ho Chi Minh park at night
Have you noticed a theme about Nghe An? Ho Chi Minh is everywhere! If you are driving through Vinh you will surely notice the huge statue of Uncle Ho – in fact it's the largest statue of him in Vietnam. This basic park doesn't offer much in the daytime, but at night it comes alive with local families. You can get a drink and actually sit on the grass and enjoy the atmosphere, or visit one of the many sculpture painting stands set up along the side. It's a great place to stroll around and relax in the warm night air in Vinh.
7. Quyet Mountain
Located near the south of Vinh, is a tree covered mountain with refreshing greenspace. It's possible to drive partway (directions) up then hike to the top where you can find a temple and some great views or Vinh and the surrounding area on a clear day.
8. Find one of many waterfalls
I ventured to a waterfall about 16km from Vinh out in the middle of the countryside. The drive here was spectacular, rice paddies far into the distance, with fires burning along the roadside and water buffalo, cows and pigs coming home to their small farmsteads. To get here is a bit difficult (directions), at the end of the road you can park you motorbike at a pole that says 'parking' in Vietnamese. From there walk up the path and hope over the 1st barbed wire gate and across a rickety old bridge. Follow the path until you reach the beginning of the waterfall, and then get your feet wet! Climb up the rocks and water to the first large pool of water at the bottom of a huge sloped rock wall. I was told in the dry season it's possible to climb ever higher. But here is a great place for a picnic and to really enjoy nature.
9. Get lost in sunflower fields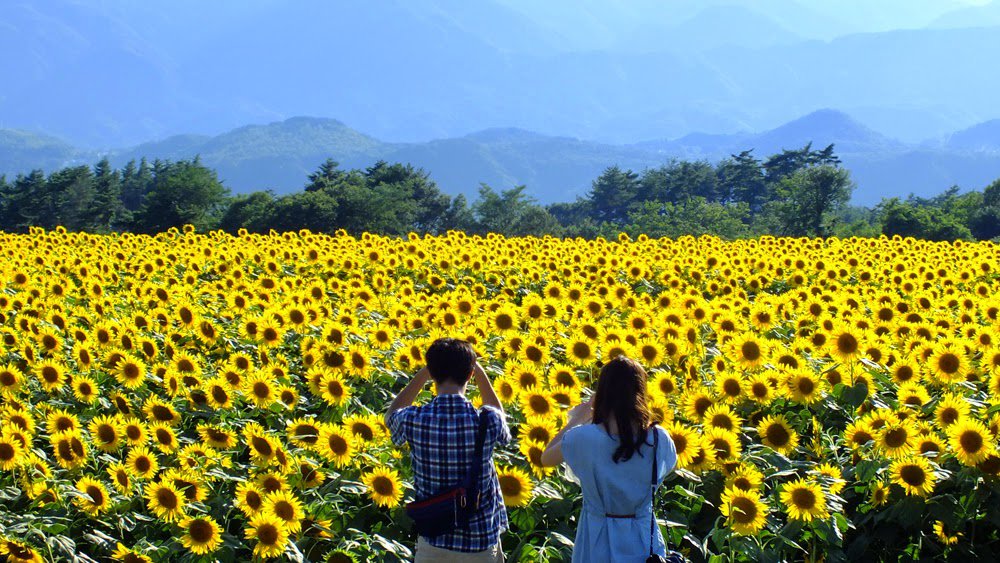 About 100km north of Vinh in Nghia Dan district (directions), you will find a 30 hectare sunflower field. It's located along the Ho Chi Minh Trail, so it's very possibly on your route. It's quite popular with Vietnamese travelers who want to get lost among the thousands of bright yellow flowers. Zing News has a great gallery of photos which showcase just how overwhelming the flowers are!
10. Eat the local food
Nghe An province has loads of local delicacies. Some of the most famous local food includes eel soup (cháo lươn) and steamed rice rolls (bánh mướt). Keep an eye out for the shops along the road selling this, and skip pho for a day. The eel soup is popular for locals at 68 Ly Thuong Kiet street. I haven't been here but it comes highly recommended by the local foody blog. The restaurant at 146 Phan Đình Phùng is also recommended. Here you can get eel soup with fried bread (bánh mì rán) for about 40k Dong.
Where have you been in Nghe An? Is there anywhere that you would recommend to travelers or expats in the country?